Why PRUHealth Digital
● A premium of as low as 30 MMK per day/ 10,000 MMK per year ● Purchase anytime anywhere digitally through the phone ● 10,000 MMK for every day of hospitalization (max of 60 days) ● 1,000,000 MMK for family incase death

Peace of Mind
Health matters for everyone, regardless of age. If you are healthy, you can explore more and achieve your dreams without any hesitation. Health insurance secures your health and financial future also brings peace of mind into your life.

Secure your health in just One Click!
This innovative insurance allows you to purchase digitally anytime, anywhere, through Pulse by Prudential, the health and wellness app. It provides death and hospitalization coverage with the most affordable premium fee for everyone.
PRUHealth Digital
in Pulse
When life is uncertain, it may catch you by surprises tomorrow. PRUHealth health insurance will protect you from financial loss due to unforeseen events.

Death Payout
Regardless of age, life is uncertain and at risk. The PRUHealth has a "Death Payout" benefit that provides the financial coverage of 1,000,000 MMK for the family in case there's an unfortunate situation.

Daily Hospital Stay Payout
In the event of hospitalization due to an illness or accident, PRUHealth will assure you of a daily payout of 10,000 MMK, claimable for up to 60 days.

Premium, as low as 30 MMK per day
With the premium fee starting from 11,000 MMK per year, which is 30 MMK per day according to the age band, PRUHealth makes quality health coverage accessible and affordable.

Cashless Claims
PRUHealth allows you to process cashless claims easily through the Pulse app. As well as while hospitalized at one of Prudential's partnered hospitals and clinics, there is no need to pay the medical costs upfront.

Easy purchase, anytime anywhere digitally
PRUhealth allows you to enjoy the advantages of innovative and digital technology by enabling you to purchase the insurance easily anytime, anywhere, digitally through the Pulse by Prudential app on your mobile phone.

FREE-LOOK PERIOD
We will give you fifteen (15) days free-look period from the issuance of the policy, during which you can review your policy. If you decide this policy is unsuitable for your needs and wish to cancel your policy, you must immediately notify us inside your Pulse app within the Free Look Period. We will refund the premium you paid in full.
Pulse မှာ ရရှိနိုင်တဲ့ PRUHealth ဟာ အကာအကွယ်အတွက် ကလစ်တစ်ချက်သာ လိုအပ်ပြီး ကျန်းမာရေးစောင့်ရှောက်မှုရဲ့ ဖော်ပြပါ အကျိုးခံစားခွင့်များကို တစ်နှစ်အတွင်း ခံစားရရှိနိုင်မှာ ဖြစ်ပါတယ်။ PRUHealth ရဲ့ အသက်အရွယ် အပိုင်းအခြားအလိုက် အာမခံပရီမီယမ်ကြေး နှုန်းထားများမှာ အောက်ပါအတိုင်း ဖြစ်ပါတယ်။
Package Rate
| | |
| --- | --- |
| Age Band | Annual Premium (Kyats) |
| 6 - 30 | 11,000 |
| 31 - 40 | 14,300 |
| 41 - 50 | 17,600 |
How to purchase PRUHealth Health Insurance digitally through Pulse App?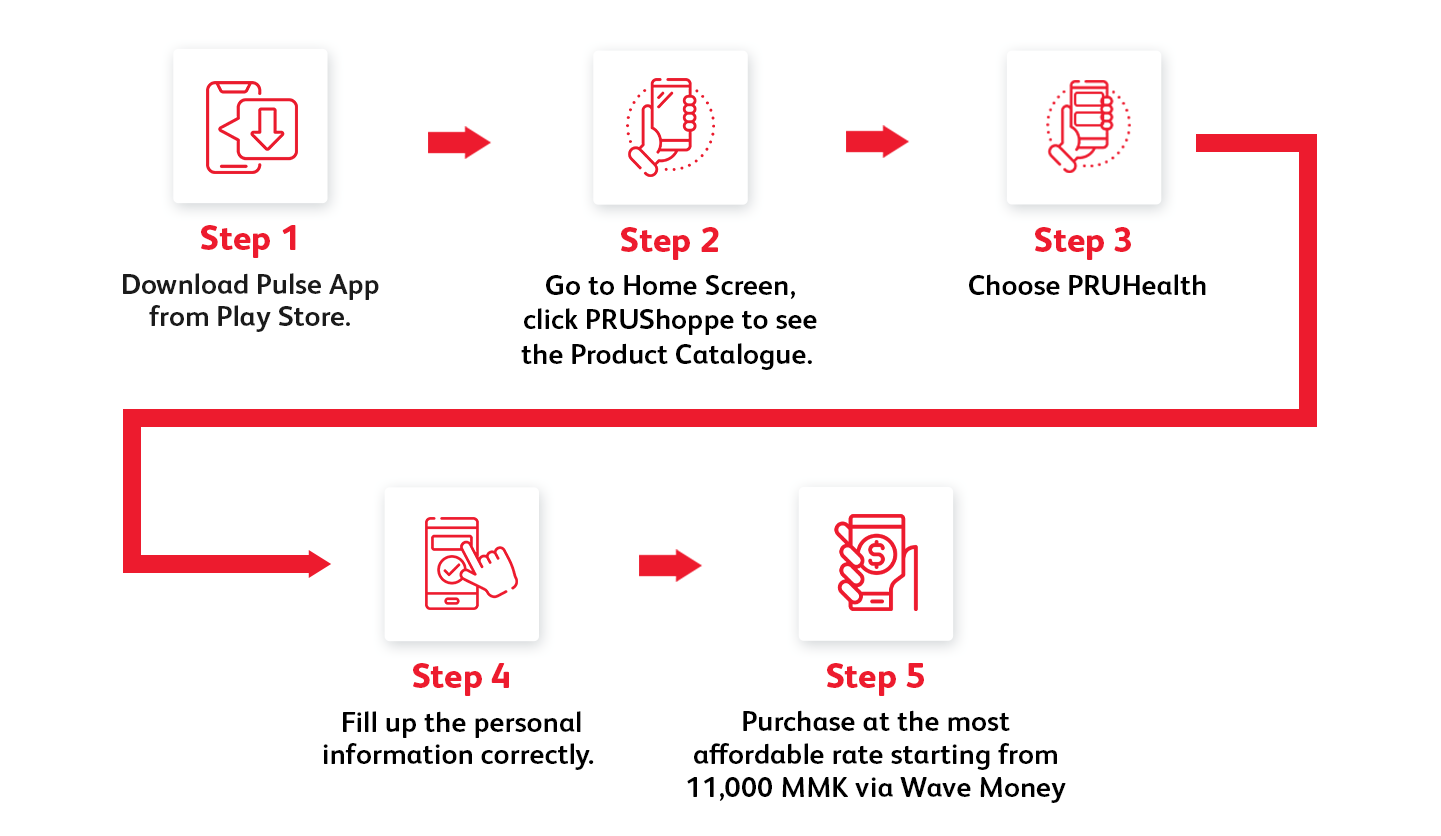 With PRUHealth on Pulse, let's take a confident step forward into a happier and healither future. Secure your life and future in just One Click!
Exclusions
The above benefits shall not be payable for any injury, disease, hospitalization, surgery, miscarriage, death or outpatient visits that occurred directly or indirectly as a result of:
Any existing diseases that are under treatment; or received recommendation from doctor to get treatment; or for any existing symptoms;

Childbirth, C-sections, delivery related surgery. For hospitalization and surgery due to pregnancy during the insured period such as Preeclampsia, gestational hypertension and gestational diabetes, will be covered. In addition, miscarriage benefit is payable if the Insured purchased optional coverage (1), if eligible;

Psychosis and Mental Disorder;

Hospitalisation due to medical check-up and rest;

Fertility treatment;

Dental surgery and treatment except due to accident;

Optical examination, surgery and treatment except due to accident;

Cosmetic/aesthetic surgery;

Hearing aids and services related to fitting of hearing aids;

Physical defect or infirmity

Drug or alcohol abuse;

Criminal activity;

AIDS/HIV;

Terrorism, civil unrest, riots, hostilities or warlike operations (whether war be declared or not) civil war assuming the proportions of or amounting to popular rising, rebellion revolution, insurrection, military or usurped power or any act of any person acting on behalf of or in connection with any organization with activities directed towards the overthrow by force of the government de jure or de facto or to the influencing of it by terrorism or violence or by the direct or indirect consequences of any of the said occurrences;

Hospitalizations of less than 3 days for treatment of diseases

Fraudulent claims; and Suicide or self-inflicted injury.