Newsroom
Prudential Myanmar Initiates and Contributes MMK 131 million to a Series of High-Impact COVID-19 related Community Projects
Prudential Myanmar is supporting its communities in partnership with three leading NGOs – ActionAid, The Rangoon General Hospital Reinvigoration Charitable Trust, WaterAid, as well as social enterprise Doh Eain
Yangon, Myanmar, 28 September 2020 – Prudential Myanmar is rolling out a series of community projects in collaboration with three non-governmental organisations (NGOs) – ActionAid, The Rangoon General Hospital Reinvigoration Charitable Trust (RGHRCT) and WaterAid, as well as social enterprise Doh Eain (through its "I DO NATION" campaign) – to support tens of thousands of people in Myanmar amid the pandemic outbreak.
Prudential Myanmar is contributing USD 100,000 (approximately MMK 131 million) to support these community projects. The funding is part of the global Prudential COVID-19 Relief Fund, which provides financial support for Prudential's communities and the volunteering efforts of its people in Asia, the US, and Africa. With a total budget of USD 2.5 million, the Prudential COVID-19 Relief Fund has been distributed among Prudential's markets around the world to support charitable and community projects which tackle the immediate impact of the pandemic and its social and economic consequences.
In Myanmar, the funded community projects will provide urgent assistance in various approaches to help prevent the transmission of COVID-19. The projects will focus on improving hygiene infrastructure in public places, distributing face masks and disinfectants to households, providing financial assistance to street vendors and improving hygiene and infection control measures at Yangon General Hospital.
Mr. Asit Rath, CEO of Prudential Myanmar, said, "We are greatly appreciative of the significant efforts by the Myanmar authorities, frontline workers and volunteers to reduce the impact of the COVID-19 outbreak across the country. In the spirit of "We DO Good", Prudential Myanmar is committed to supporting and protecting our communities in times of need. We are pleased to collaborate with our NGO and social enterprise partners to roll out various community projects to fight against COVID-19, while also helping people get through this challenging period."
Community Project with ActionAid: COVID-19 Response in Dala Township
In partnership with ActionAid, a member of the Myanmar Consortium for Community Resilience (MCCR), Prudential Myanmar is supporting the distribution of face masks, non-contact thermal scanners, disinfectants, personal protective equipment (PPE) sets and hand gel in Dala Township, Yangon. The activities will benefit 3,457 households, 10 percent of the township's total population. The project started in September 2020 and will run until December 2020.
Education materials related to the prevention of COVID-19 will also be distributed in the township, and awareness building sessions will take place both online and in the community in coordination with the General Administration Department and the township health department. This initiative builds on ActionAid's previous work and utilises the NGO's networks and connections with the community and government departments in Dala Township.
To ensure the longevity and effectiveness of the project and to improve disaster management capacity before, during and after disasters, ActionAid is training volunteers and Disaster Management Committee members on COVID-19 protection and safety. This includes providing financial support to volunteers organising awareness campaigns in the community.
Community Project with Doh Eain: I DO NATION
Prudential Myanmar is supporting I DO NATION, a campaign led by Doh Eain and Multiverse Advertising to support the health and livelihood of vulnerable street vendors in Yangon during the COVID-19 pandemic. Over 70,000 street vendors with more than 300,000 dependent family members set up stalls every day on the streets of Yangon to make a living.
To date, I DO NATION has provided financial support to 1,200 street vendors across six Yangon townships and distributed PPE and hand sanitising facilities to over 5,000 vendors. Direct cash donations are made to street vendors, who are unable to operate due to COVID-19 restrictions, to make up for revenue lost. Hand sanitising stations have been set up in public places where street vendors are in operations. Masks, gloves, hand sanitiser bottles and educational materials on COVID-19 have also been distributed in these areas.
Community Project with WaterAid: Improving Hygiene Infrastructure
This project, which launched in June 2020 and completes in December 2020, focuses on four key areas: building hygiene infrastructure, encouraging hygiene behavioural change, improving the handwashing practices in communities, and strengthening response mechanisms to maximise impact. Handwashing facilities will be installed in public areas, healthcare centres and schools in coordination with local government departments, the Ministry of Health and Sports, Ministry of Education and Township COVID-19 Response Committees. These facilities will benefit more than 12,000 students at two schools in Hlaing Thar Yar Township, one of the most densely populated areas in Yangon.
To encourage hygiene behavioural change, informational materials such as posters and billboards will be displayed in targeted areas. WaterAid will also utilise digital media channels to raise public awareness about best practices of handwashing.
Community Project with The Rangoon General Hospital Reinvigoration Charitable Trust: Hygiene and Infection Control
Yangon General Hospital (YGH) is Myanmar's principal healthcare provider for the country's most underprivileged people. Prudential Myanmar will support RGHRCT to enhance hygiene and infection control measures to help prevent the spread of COVID-19 among patients and staff.
Improving hygiene in YGH will support community resilience for Myanmar now and in the future. Efforts will focus on ensuring that adequate hand washing facilities will be provided in COVID-19 response areas, which include COVID-19 Triage, the Person Under Investigation wards as well as the Intensive Care Units.
Working with YGH's leadership team, RGHRCT will also promote hand hygiene and help to implement specific practices and trainings. These initiatives will provide good reference to all other hospitals in Myanmar.
Regular updates on Prudential Myanmar's initiatives and notices around COVID-19 will be posted on the corporate Facebook page at www.facebook.com/PrudentialMyanmarLifeInsurance.
END
For media queries, please contact:
Chilli Agency (for Prudential Myanmar Life Insurance)
Ms. May Mya Thu Ms. Hsu Myat Thet
Mobile: +959 97326 7579 Mobile: +959 97452 4690
Email: maymyathu@chilli.agency Email: hsumyatthet@chilli.agency
Images & Captions – Credit all images to Prudential Myanmar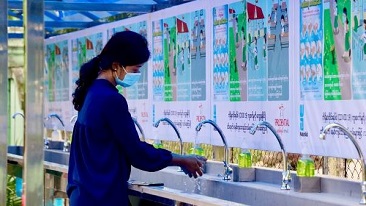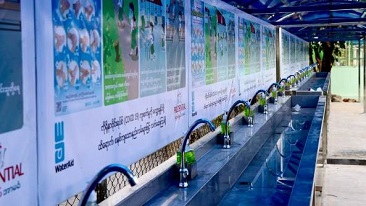 Image 1 & 2 - Handwashing facilities installed at a school in Hlaing Thar Yar Township by Prudential Myanmar and WaterAid.
About Prudential Myanmar Life Insurance
Prudential Myanmar Life Insurance (Prudential Myanmar) is a wholly owned life insurance operation in Myanmar under Prudential Corporation Asia. In November 2019, Prudential was granted a life insurance licence from the Ministry of Planning and Finance (MoPF) of Myanmar to offer life insurance products and solutions to the people of Myanmar to meet their growing long-term protection and savings needs.
Prudential Myanmar is focused on supporting national efforts to raise life insurance penetration and financial inclusion in the country. With its technology-enabled approach, Prudential Myanmar is committed to reach as many people as possible, and to ensure they enjoy an easy, simple and convenient experience.
For more information, please visit Prudential Myanmar's corporate website: www.prudential.com.mm or Facebook page: www.facebook.com/PrudentialMyanmarLifeInsurance
About Prudential Corporation Asia
Prudential Corporation Asia (Prudential) is a business unit of Prudential plc*, comprising its life insurance operations in Asia and Africa, as well as its asset management business, Eastspring Investments. Headquartered in Hong Kong, Prudential helps people get the most out of life through savings, protection and investment solutions that meet their diverse and evolving needs.
Prudential is a leading life insurer with operations spanning 13 markets in Asia, covering Cambodia, China, Hong Kong, India, Indonesia, Laos, Malaysia, Myanmar, the Philippines, Singapore, Taiwan, Thailand and Vietnam. In Africa, Prudential has a presence in eight markets, covering Cameroon, Cote d'Ivoire, Ghana, Kenya, Nigeria, Togo, and Uganda. With a robust multi-channel distribution platform, Prudential delivers comprehensive and innovative solutions to more than 16 million customers across the two continents.
Eastspring Investments manages investments in Asia on behalf of a wide range of retail and institutional investors. It is a leading Asia-based asset manager with on-the-ground presence in 11 major Asian markets as well as distribution offices in North America and Europe. It has US$220 billion in assets under management (as at 30 June 2020), managing funds across a range of asset classes including equities and fixed income.
In line with the company's mission to make healthcare affordable and accessible for all, 'Pulse by Prudential' (Pulse) was first introduced in Malaysia in August 2019. Today, Pulse is available in 11 markets across Asia, and soon Africa. The app uses AI-powered self-help tools and real-time information to serve as a 24/7 health and wellness partner to users, helping them prevent, postpone, and protect against the onset of diseases. As at August 2020, the app has been downloaded more than 8 million times in Asia. For more information, visit www.wedopulse.com.
*Prudential plc is listed on the stock exchanges of London (PRU.L), Hong Kong (2378.HK), Singapore (K6S.SG) and New York (PUK.N). It is not affiliated in any manner with Prudential Financial, Inc. a company whose principal place of business is in the United States nor with The Prudential Assurance Company, a subsidiary of M&G plc, a company incorporated in the United Kingdom.