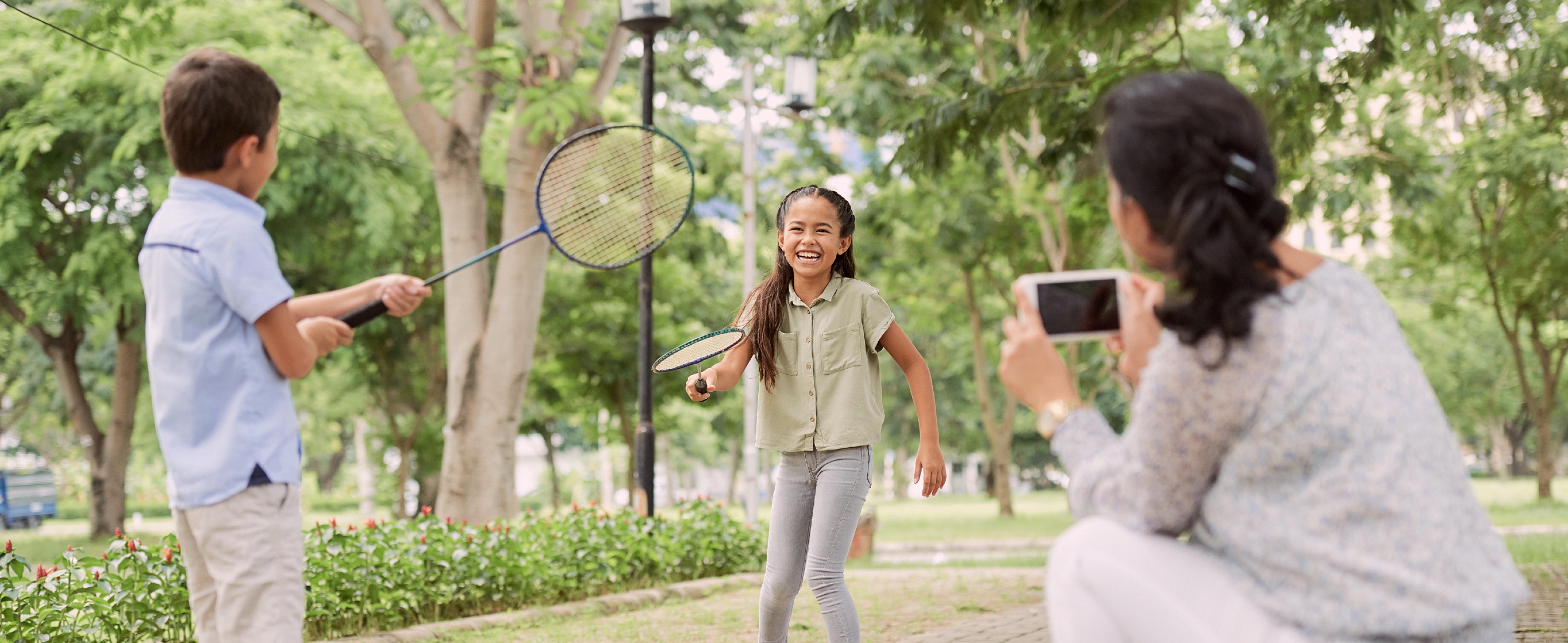 6 Tips for Staying Healthy
While You are Working Remotely
Tip #1: Dress for Success
One of the perks of working from home means not having to waste time getting ready and being able to work in your pajamas, right? Actually, chances are you will be more productive if you change your clothes. Studies have shown that clothing affects performance, with one finding that dressing more formally leads to increased creativity and abstract thinking, and another concluding that employees tend to perform better when what they're wearing has "'symbolic meaning'" [1,2].
If you usually go into the office, you may find that not being surrounded by other colleagues working will already lead you to be less motivated and creative throughout your day. In addition, the many distractions of being at home, such as having your kids running around and disrupting your work flow, can cause you to lose focus [3]. With all these hinderances, sticking to your normal routine of getting up, ready, and out of bed as if you are going into the office will make you more mentally prepared for the day. That's not to say you need to put on a business suit while working from home [4]! However, purposely changing into something besides pajamas and lounge clothes can lead to better intention and a more productive work day.


Tip #2: Have a Set Place to Work
If you usually go into the office and work at a desk, have a similar set space at home to keep you engaged, even if it means sitting at the dining room table. Choose a spot that is well lit, has limited distractions, and will allow you to maintain good posture (which means avoiding working in your bed or on the couch) [4]. With lockdowns keeping you inside, having access to sunlight will keep you in a better mood and increase overall energy and alertness. If being near a window isn't possible, try a space with "cooler" lighting, as this has also been proven to make workers more productive [2].
Most importantly, having a set space in your home to work also means leaving this spot at the end of the work day and not coming back to it until the following morning. When working from home, you may feel the need to overcompensate and work beyond normal business hours. Keep a schedule, as you would on a normal day in the office, and stick to it to keep your day productive and overall stress levels low [5].


Tip #3: Move Around and Get Creative with Fitness
With gyms shut during lockdowns and emphasis being placed on limiting time outdoors, it can be hard to find ways to exercise. Even simple physical activity, like walking to, from, and around the office, will be restricted if you're working remotely. Research has shown that sitting for long periods of time can be a risk factor for early death, so even if your home is small, make it a point to get up and walk around every hour. The small breaks will keep you focused, and getting up and moving is a good way to stretch your legs and limit back pain [2].
In addition, carve out time in your day for a longer workout, preferably in the morning. Not only will it improve your physical and mental health, but it will also reduce stress and increase energy which will allow you to have a more efficient work day. Set the time aside in your calendar as you would schedule a work meeting so that you can ensure it will happen [5]. There are plenty of household items you can use as part of a workout: large bottles and cans as weights, dish rags for sliders and lunges, and even stairs in your building for step ups [6]. There are also numerous short cardio, yoga, and fitness videos online that you can follow to keep you active. However, if space constraints are an issue, simple exercises like planks, push-ups, sit ups, and squats can easily be done at home and within small spaces [6].


Tip #4: Limit Stress and Maximize Sleep
With all the uncertainty surrounding COVID-19, it is important to maintain anxiety and reduce stress. Set a couple of minutes aside throughout the day for meditation to boost optimism, and make sure you are getting enough sleep each night, ideally 7-8 hours. [5,7]. Although the link between sleep and mental health is not fully understood, studies have shown that those who get a better night's sleep are more mentally and emotionally resilient, while those who don't tend to have more negative thoughts [8]. Sleep deficiency can also lead to heart disease, kidney disease, high blood pressure, stroke, and obesity, so it is important to prioritise sleep each night [7]. If anything, hopefully the time saved on your commute to and from the office can be used to catch up on sleep!


Tip #5: Plan Nutritious Meals and Snacks
With everyone heading to the supermarket to stock up on groceries, use this time keep your house filled with healthy foods. Sturdy and starch vegetables like broccoli and sweet potatoes can keep for a long time, and even most fruits and vegetables can be stored in the freezer for months. If buying canned and frozen food items, stick to those that are low in saturated fat (<1.5 grams per serving), salt (<200 milligrams per serving), and added sugars (<5 grams per serving) [6].
Even if you're at home and have easy access to your fridge, still plan and portion out healthy snacks for when you get hungry throughout the day [5]. Avoid food and drinks with too much sugar, as well as carbohydrates like white bread and baked goods, as they will give you a quick boost of energy and then cause you to crash within 2 to 3 hours. Instead, eat fruits and vegetables, whole grains, and lean proteins (nuts, plain yogurt, hummus, hard boiled eggs) whenever you feel yourself getting hungry. Drink plenty of water throughout the day as well to avoid dehydration, which can lead to fatigue, headaches, and overall inattentiveness [5].


Tip #6: Check In Regularly with Your Colleagues
Working remotely with limited social interaction may make you feel more isolated and lonely, which can lead to depression [3]. Depending on your job, it can also help to talk things out and bounce ideas off one another to boost creativity and overall work effectiveness. If possible, have a colleague or friend you can reach out to whenever you feel the need to chat, and use communication tools that include videoconferencing and screen sharing to ensure everyone on the team is on the same page when it comes to completing tasks [9].
REFERENCES:
[1] Hutson M, Rodriguez T. Dress for Success: How Clothes Influence Our Performance. Scientific American [Internet]. 2016 [cited 26 March 2020];. Available from: https://www.scientificamerican.com/article/dress-for-success-how-clothes-influence-our-performance/.
[2] Popomaronis T. Don't make these 6 biggest mistakes if you're working from home, says guy who's done it for 10 years. CNBC [Internet]. 2020 [cited 26 March 2020];. Available from: https://www.cnbc.com/2020/03/17/never-make-these-6-biggest-mistakes-working-from-home-says-guy-whos-done-it-for-10-years.html.
[3] Molla R. Working from home can make people more productive. Just not during a pandemic. Vox [Internet]. 2020 [cited 26 March 2020];. Available from: https://www.vox.com/2020/3/20/21187469/work-from-home-coronavirus-productivity-mental-health-nicholas-bloom.
[4] Sachs L. 7 Effective Ways to Work From Home During the Coronavirus Outbreak. Good Housekeeping [Internet]. 2020 [cited 26 March 2020];. Available from: https://www.goodhousekeeping.com/life/career/a31436581/working-from-home-tips/
[5] Smith P. How to Stay Healthy While Working From Home. Openfit [Internet]. 2020 [cited 27 March 2020];. Available from: https://www.openfit.com/how-to-stay-healthy-while-working-from-home.
[6] Ducharme J. How to Stay Physically and Mentally Healthy While COVID-19 Has You Stuck at Home. TIME [Internet]. 2020 [cited 26 March 2020];. Available from: https://time.com/5804130/covid-19-social-distancing-wellness/?utm_source=roundup&campaign=coronavirus.
[7] Sleep Deprivation and Deficiency [Internet]. National Institutes of Health (NIH): National Heart, Lung, and Blood Institute (NHLBI). [cited 30 March 2020]. Available from: https://www.nhlbi.nih.gov/health-topics/sleep-deprivation-and-deficiency.
[8] Sleep and mental health [Internet]. Harvard Health Publishing - Harvard Medical School. 2020 [cited 30 March 2020]. Available from: https://www.health.harvard.edu/newsletter_article/sleep-and-mental-health.
[9] Austin P. 5 Tips for Staying Productive and Mentally Healthy While You're Working From Home. TIME [Internet]. 2020 [cited 26 March 2020];. Available from: https://time.com/5801725/work-from-home-remote-tips/.