COVID-19 Free Insurance Coverage by Prudential Myanmar Life Insurance
Campaign Period is from 11th April to 11th October 2020
* Applicable to ALL customers (both individual and corporate customers), including both existing and new customers
*The period of the COVID-19 free insurance coverage is 90 days from the issue date of the policy or the start date of the campaign, whichever is later.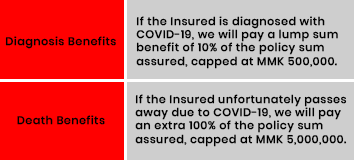 Note: There will be a "waiting period" of 14 days that will apply only for new customers (i.e. customers who are onboarded after 11th April 2020).
Illustrative Example 1 (Existing Customer)
U Aung bought a PRUTerm policy of Sum Assured 3 million MMK on 2nd April.
Free COVID-19 benefits:
Diagnosis Benefits: MMK 300,000 (10% of 3 mil)

Additional Death Benefit: MMK 3,000,000 (equal to policy sum assured)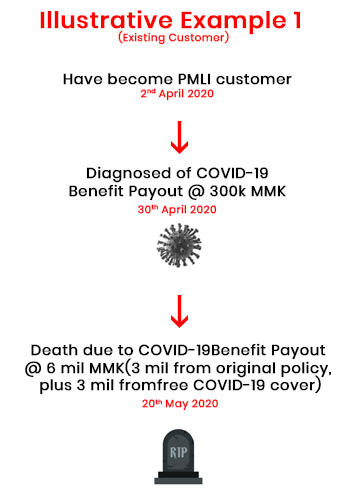 Illustrative Example 2 (New Customer)
Daw Mya bought a PRUTerm policy of Sum Assured 5 million MMK on 1st June.
Free COVID-19 benefits:
Diagnosis Benefits: MMK 500,000 (10% of 5 mil)
Additional Death Benefit: MMK 5,000,000 (equal to policy sum assured)