One Year Life Insurance Protection Plan
PRUTerm
PRUTerm is a one-year life insurance plan that provides protection against financial loss should death, total and permanent disability or accident happen. It helps secure your loved ones' future with financial protection at an affordable cost and provide financial security and peace of mind in case of unexpected events. Protect your loved one's financial future with the PRUTerm life insurance plan.

Death or Total and Permanent Disability benefits
You can't predict what the future has in store for us. But, you can secure your loved ones' future by protecting them even when you couldn't be there for them.

Annual payment as low as 1% of your coverage
Offer a life insurance plan that is best suited for you who wishes to secure the future for your loved ones at an affordable cost with an annual payment as low as 1% of your coverage.

1-Year coverage term for short term goals
Receive financial protection for a short term of one year so you can insure yourself and your loved ones while meeting your short term financial goals.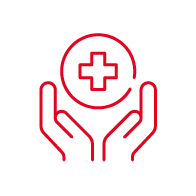 Keeping you protected
at all times
| | |
| --- | --- |
| Free COVID-19 protection | We're in the fight against the COVID-19 outbreak together. And, we know it's important to keep you protected from the unpredictable consequences the outbreak causes. |
| Easy enrolment process | No medical examination required. You could start today. |
Product

details
Features and benefits

Payment Term

One-off premium

Coverage Term

1 year

Issue Age

16 – 60 years old (Age Last Birthday)

16 to 17 years old are juvenile. Thus, parents are considered as policyholder.

Minimum Sum Assured

100,000 MMK

Maximum Sum Assured

5,000,000 MMK

Benefits

Death Benefit

Total and Permanent Disability (TPD) Benefit

Accidental Injury Benefit

Hospitalization due to Accident Benefit

Important notes

This product summary is for illustrative purposes only. You are advised to refer to Prudential's Brochure and quotation before purchasing the plan, and to refer to the terms and conditions in the policy document for details of the important features of the plan.

You should satisfy yourself that this policy will best serve your needs and that the premium payable under the policy is an amount that you can afford before making a decision.

Should you cancel the policy during policy term, no premium will be refunded and the coverage will continue until end of policy term.
Would like

to hear what others think?
"Although I didn't have much awareness about life insurance services, Thet Hein explained about life insurance and the PRUTerm benefits to me in detail." - Myat Noe Thwin, Junior Camera Operator
"First of all, Prudential is a renowned brand with a long successful history in the life insurance business. The quality of services that they have provided to us is professional and efficient.
In terms of our company, it is mandatory for our employees to have life insurance policy. The group life policy insured by PMLI has provided our employees with financial security but more importantly the Covid-19 coverage benefits have provided our employees a sense of confidence in our day to day work during these difficult times.
Thank you for your excellent service."

Myat Noe Thwin, Junior Camera Operator
MCI Advertising Agency